Messiah!
by Alison Young
December 16, 2009
Listen

Messiah - Hallelujah
Listen

Messiah - Comfort Ye/Every Valley
Listen

Messiah - And the Glory
Listen

Messiah - And He Shall Purify
Listen

Messiah - Behold a Virgin/O Thou that Tellest
Listen

Messiah - His Yoke is Easy
Listen

Messiah - Pastoral Symphony/Rejoice Greatly
Listen

Messiah - Lift Up Your Heads
Listen

Messiah - Hallelujah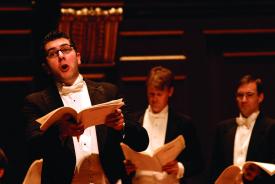 Messiah at Boston's Orchestra Hall (Handel and Haydn Society)
View full slideshow
(3 total images)
Although we associate Handel's most famous oratorio with Christmas, it was actually written during a very hot summer. In spite of the dog-days, Handel wrote at break-neck speed -- and this even though he was also terribly depressed and nearly broke.
"Handel's 'Messiah' has fed the hungry, clothed the naked, fostered the orphan and enriched succeeding managers of the oratorios, more than any single production in this or any other country."
- Charles Burney
He was visiting friends who had a spectacular garden and he had the run of a little house right in the center of that heavenly oasis. Messiah is a monumental work. If performed in its entirety, it lasts several hours. But this made no difference to Handel who finished it in 24 days.
Handel sat at the harpsichord at its premiere -- the one where the King supposedly rose to his feet at the first notes of the Halleluiah Chorus -- as did the entire audience -- and every audience since.
Though I have to say I like this story a bit more --- Handel's assistant had been calling out to him for some time and became concerned that he got no response. When he walked into the garden house he found a tearful Handel holding the score to the Halleluia Chorus and saying, "I thought I saw the face of God."
---
Hear some of the most famous Christmas scenes from a recent performance of "Messiah" by the Handel and Haydn Society in Boston led by their Artistic Director Harry Christophers on the podium.
Suzie LeBlanc, soprano; Daniel Taylor, countertenor; Tom Randle, tenor
Handel and Haydn Society Chorus and Period Orchestra Symphony Hall, Boston