New Classical Tracks: Renee Fleming - Verismo
by Julie Amacher
March 2, 2010
Listen

New Classical Tracks - March 2, 2010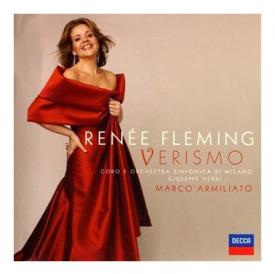 Renee Fleming -- Verismo (London 13279) (Courtesy of London Records)
Audio
More from Classical South Florida
Resources
She's sung for the Prince of Wales at Buckingham Palace, she's performed for the Supreme Court, and she was a featured artist on the televised concert at the Lincoln Memorial celebrating the inauguration of President Obama. Renee Fleming is "the people's diva." She graces the world's greatest opera stages and concert halls. She hosts a variety of television and radio broadcasts, including the Metropolitan Opera's "Live in HD" series for movie theaters. Recently, she won her third Grammy award for her latest recording titled, "Verismo." The arias featured on this new release come from a very specific period in opera, spanning the years between Alfredo Catalani's, "La Wally" (1892), and Puccini's "Turandot" (1926). Fleming says of Verismo, "It has everything to do with the period in which it was written, but it means truth, so this is music that's meant to represent real life as opposed to the fantasy world of period kings and queens and sorcerers and things like that. I think that was really the thing that made the big difference."
Fleming intentionally sought out this repertoire because it was different than anything she had done before, "I absolutely wanted to find drama and work on a recording that sort of represented drama because I had done so much Strauss and so many lyric recordings that were more sustained and beautiful, and that's kind of where my voice lives as well. It was a typical kind of expression for me. The Italian Verismo music is typically very dramatic, we think of Madame Butterfly and Tosca, and a lot of these kinds of favorite pieces. So it was a real labor of love, and then I was surprised to discover all of this great music that nobody knows. I didn't know most of it!"
"I was surprised by some of the vulgar content," Fleming recalls, "The stories are the kind that we would raise and eyebrow at today. A hundred years ago they were writing plots for opera that kind of rival our pulpiest fiction." One of those operas is "Conchita," by Riccardo Zondonai. Fleming's fiery passion makes this exotic character irresistible.
During her research for, "Verismo," Fleming listened to numerous re-mastered recordings that weren't available when she started singing. It was one of these historic recordings which inspired Fleming's interpretation of Puccini's aria, "Ore dolci e divine," from "La rondine." "That's a gorgeous aria," Fleming explains, "Leontyne Price's recording was the real inspiration. That role is so challenging because there are three arias right in the first act." This gentle aria Fleming radiates a sense of joy all the way up to the beautiful high notes.
Like many composers on this collection, Ruggero Leoncavallo's suffered from the popularity of his contemporary, Giacomo Puccini. In fact, the two had a falling out after they composed competing versions of "La Boheme," both of which are represented on this new release. Leoncavallo's "La Boheme" premiered a year after Puccini's and it has some brilliant moments, including Mimi's enchanting description of her friend Musette in "Musette svaria sulla bocca viva."
Renee Fleming's delivery on this new release is simple, dramatic, and technically perfect, just as the audience of the Verismo era would have expected. She would have been the people's diva then, just as she is today."