New Classical Tracks - Stories Told on Trumpet
by Julie Amacher
February 22, 2012
Listen

New Classical Tracks - Stories Told on Trumpet
Listen

New Classical Tracks - Interview with Tine Thing Helseth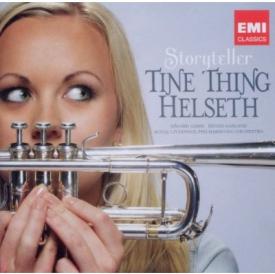 Tine Thing Helseth - Storyteller (EMI 88328) (Courtesy of the Artist)
A bit of girl power in the trumpet world is a good thing, according to Tine Thing Helseth, a 23-year-old trumpeter from Norway. The brass instruments are often associated with male musicians, but players like Tine and British trumpeter Alison Balsom, who records for the same record label, are changing that perception. Tine says it's quite common for girls to play trumpet in Scandinavia, where she also leads an all-female brass ensemble called "Thing Ten." Helseth is being introduced to American audiences with the release of a new solo recording titled "Storyteller." It's a collection of songs transcribed for trumpet, and each one tells a story.
The story of how Tine Thing Helseth became a trumpet soloist began when she was very young, "We have pictures of me, eight months old, having a mouthpiece in my mouth. There was just something about the trumpet. I guess I just wanted to do as my mother." Helseth's mother is an amateur trumpet player who gave her daughter her first trumpet when she was seven years old. Ever since she played her first notes, Tine couldn't imagine doing anything else. "I really just liked it and it felt very natural," she explains, "so in a way, it's just been a journey. It just feels like suddenly I'm here!" Even though it's been a lot of hard work, Tine says she feels very lucky to be living her dream, traveling the world as a solo artist.
Tine Thing Helseth released two earlier recordings on a Norwegian label. She says her American debut is a very personal recording. At the heart of this disc is a collection of songs by Norwegian composer Edvard Grieg titled 'Haugtussa.' "I must say, it's one of the best pieces that Grieg ever wrote," Helseth says. "And the last song, especially — it's one of the most amazing songs, I think, of any composer." That last song is titled "At the Brook," which is where the young dairy maid is pondering a few sad, wistful thoughts. It's based on a beautiful poem by the famous Norwegian author Arne Garborg. "But I think the music is so good in itself and describes the text so well, that you can do it without the words," Helseth explains. She's also played Grieg's only song cycle at the composer's home at Troldhaugen, in Bergen, Norway. "We played 'Haugtussa' on his piano," Helseth recalls. "That was very, very special. Edvard Grieg's wife, Nina was a singer. So you can just imagine them sitting there, Grieg playing the piano and Nina singing these songs, in the exact same living room!"
When Helseth discovered they needed one more song to fill out this recording, she chose the aria, "Mon coeur s'ouvre a ta voix," from "Samson and Delilah," by Camille Saint-Saens. This was at the encouragement of the Royal Liverpool Philharmonic Orchestra. "The orchestra had by coincidence played this Saint-Saens the week before. And so they just suggested, Why not do this one? And I said, Oh great! We did one play-through and then we recorded it, and now it's one of my favorite songs on the CD. I've done it both with them and in other places in concert since the recording."
One of today's great opera divas inspired Tine Thing Helseth to include another aria on "Storyteller." It's by the Spanish composer and artist Jose Maria Cano, "Actually I heard it on a record by Renee Fleming," Helseth admits. "I just loved it from the first time I heard this song. So we contacted the composer. It turns out, he's not composing anymore. He's more into painting. So it was a bit hard to get hold of the material. It opens with this very free, distant trumpet line. And then he comes in with this amazing melody with the solo cello, with string orchestra underneath. And it's the principal cellist with the Liverpool Philharmonic, Jonathan Aasgaard. He's actually Norwegian, so that was a coincidence."
"Storyteller" closes out with something slightly unexpected from American composer Kurt Weill: a song titled 'Je ne t'aime pas,' which Helseth often uses as an encore piece in concert. "It's actually quite a sad song — I don't love you anymore — but it's just one of my favorite songs. I just really, really love it, very sensual, very, very Kurt Weill. A nice mix between his German Cabaret style, but this one is in French."
"Storyteller" is filled with enchanting songs transcribed for trumpet. Tine Thing Helseth experienced some of that feeling herself, when she recorded this disc with the Royal Liverpool Philharmonic Orchestra. "I just had the most amazing time. To just be able to stand in the middle of the orchestra, and for instance to be able to play [Marietta's song, from] 'Die tote Stadt,' from Korngold's opera — it's just magical."