The Nutcracker(s)
by Alison Young
December 6, 2013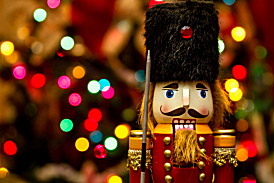 Nutcracker standing near a Christmas tree (Teri Virbickis via Shutterstock)
View full slideshow
(2 total images)
Audio
More from Classical South Florida
Resources
It's that time of year again: Nutcrackers aplenty! Classical MPR host Alison Young has a look at some of the Nutcracker shows on offer this holiday season.
---
Listen
Moscow Ballet's Great Russian Nutcracker will be at Minneapolis' Orpheum Theatre tonight at 7:30 p.m., and tomorrow at 3:00 and 7:00 p.m.

The story of peace features solo dances by ambassadors from Hispanic, African, Russian, Asian, and European heritages. The 2013 production also includes costumes created in St Petersburg's oldest theatrical costume shop.

And the production's live chorus is the Minnesota Youth Chorus.
---
Miami may escape the cold, but it can't elude the Nutcracker. Miami City Ballet, led by artistic director Lourdes Lopez, will present George Balanchine's The Nutcracker.
---

Listen
The year 2013 marks the 49th anniversary of Loyce Houlton's Nutcracker Fantasy performances in the Twin Cities. This production takes place at the State Theatre in Minneapolis.