Saturday Cinema: Holiday Films and a DVD pick
by Lynne Warfel
December 7, 2013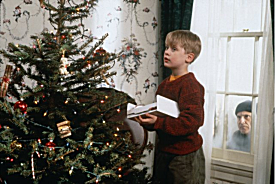 Macaulay Culkin and Joe Pesci in 'Home Alone' (© 1990 20th Century Fox.)
More from Classical South Florida
Saturday Cinema begins with Flicks in Five and the 1990 holiday classic, Home Alone. John Williams provides a sentimental and lovely score to accompany John Hughes' screwball comedy about a kid left alone at home at Christmastime.
The hour continues with the scores from holiday films.
And if it's just too cold to venture out to a cinema, MPR's Cube Critics offer up this review of the recently released DVD of Simon Pegg and Nick Frost's comed, The World's End.