New Classical Tracks: 'Summer in February' conjures the Cornish coast
by Julie Amacher
February 26, 2014
Listen

New Classical Tracks: 'Summer in February'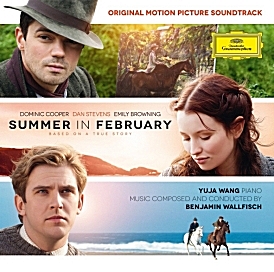 Summer In February Original Soundtrack (Deutsche Grammophon)
View full slideshow
(5 total images)
Audio
More from Classical South Florida
Resources
Benjamin Wallfisch - Summer in February (DG)
What would it be like to grow up in a home where your father is a world-class cellist, and your mother is a renowned Baroque violinist? Composer Benjamin Wallfisch says having Raphael and Elizabeth Wallfisch as parents has been a real blessing. "I think the main impact was that every morning we woke up and there was always music in the house," Wallfisch says, "and my dad would begin his day always by playing solo Bach. So we'd be woken up with that sound. There was a sense that music wasn't just a job. It was something that really truly was, is part of my parents' identity."
Benjamin Wallfisch chose the piano as his instrument. He says it's allowed him to follow his own path. "My grandfather Peter was a concert pianist and he had an amazing approach to playing the piano. He treated it like a string instrument — he would always say to me that your arms are your bow and you draw the sound out of the piano and treat it like a violin."
The piano and the violin play a critical role in the music Wallfisch composed for the recently released film, Summer in February. Based on the novel by Jonathan Smith, it's the true story of a sweeping romance set at a bohemian artist colony in pre-war England. Dominic Cooper stars as painter Sir Alfred Munnings, and Dan Stevens, whom you may recognize from Downton Abbey, plays Munnings' best friend Gilbert, both of whom fall for the aristocratic beauty Florence Carter-Wood, played by Emily Browning.
"Well, I'm a pianist," says Wallfisch, "and the piano has always been something very close to me as a means of expressing myself through improvisation. Piano and strings has a certain sound which often conjures up that feeling of yesteryear. And it's a very effective sound world to work with when you're conveying that. But also — it has an enormous range. So you can do something very small and intimate, right up to portraying the storm at the end when you have these tumultuous arpeggios alongside the full orchestra."
Wallfisch didn't ask just any pianist to join him for this soundtrack — he sought out the fearless, young, Yuja Wang. "From the beginning she was very enthusiastic about the story and I sent her some of the music ahead of the time," Wallfisch recalls. "Her record company asked me to write a little solo piano suite of some of the main themes of the score. That resulted in the final track on the album — which isn't in the movie. It's just purely for the soundtrack album.
"'Florence's Theme', which you hear on the solo violin, is extremely fragile and almost broken. Very strange harmonic progressions underneath a very simple, quite logical melody which gives that sense that something deep inside is broken.
[EDITOR'S NOTE: The next paragraph, a quote from Wallfisch, contains a plot spoiler. If you have not read the book nor seen the film and would like to avoid the spoiler, please scroll down to the following paragraph that begins, "Wallfisch did try..." and continue reading from there.]
"There's a love theme, but it has a special tinge to it, it's an unrequited love theme which really becomes Gilbert's theme, the man who wishes he had proposed in time before AJ got there in front of him. This melody is, I would say, like the main theme in the score because that is the central motivation of the story...and everything unfolds from that moment. And from the fact that he doesn't propose, and they don't get married, and the path that Florence does choose — it ends in tragedy."
Wallfisch did try to channel another well-known British composer as he wrote the piece titled "The Painting."
"'The Painting' was scoring a moment very early on in the story where everything is innocent, simple, idyllic," Wallfisch says. "Everyone's getting to know each other. AJ Mullings is painting Florence, she's posing for him on a horse, just sitting there in a beautiful woodland landscape. So that moment is what I call the 'Lamorna Theme', it's very open, Vaughan Williams-esque melody. It's almost like a folk tune which you hear on the clarinet.
"I'm using lots of modulations which are unexpected. I didn't really set out to do that for any particular dramatic reason — it just felt right, musically. It's just the way those melodies led me when I was writing them. You just take in the vibe of the story, which is one full of uncertainty and unexpected twists and turns. Once you're in that world, in that story...it's going to transform itself both melodically and harmonically.
[EDITOR'S NOTE: The next paragraph contains a subtle plot spoiler.]
"The biggest challenge for me musically was to set up this sense that this is paradise in England," Wallfisch says, "so that it's a massive shock when the story unfolds as it does in this unbelievable tragedy. So that melody I had to transform later in the score into something unbearably sad."
You may know the story behind, Summer in February. However, it may be worth seeing it on the big screen just to hear how the music unfolds.
Sign up for a chance to win a copy of the Summer in February soundtrack by filling in the form beneath the video.
---
"); } function create_b327336f6007_external_field() { } function enable_b327336f6007_ajax_form() { $("#fbSubmitButton").click(function() { $.ajax({ type: "POST", url: "/www_publicradio/applications/formbuilder/user/form_display.php?form_code=b327336f6007", data: $("#form_display_b327336f6007").serialize(), complete: function (transport) { //turn off the ajax loader $("#indicator_b327336f6007").hide(); }, beforeSend: function () { $("#indicator_b327336f6007").show(); }, success: function(html) { $("#resp_b327336f6007").html(html); $("#indicator_b327336f6007").hide(); create_b327336f6007_external_field(); enable_b327336f6007_ajax_form(); } }); return false; }); } create_b327336f6007_external_field(); enable_b327336f6007_ajax_form();
---