New Classical Tracks: Renee Fleming's 'Guilty Pleasures'
by Julie Amacher
April 9, 2014
Listen

New Classical Tracks: Renee Fleming, 'Guilty Pleasures'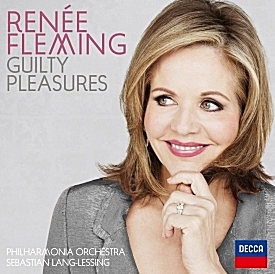 Renee Fleming's album, 'Guilty Pleasures'. (© 2013 Decca.)
Renée Fleming, Guilty Pleasures (Decca 19033-02)
On Sunday, Feb. 2, world-famous opera singer Renée Fleming reached a whole new audience when she became the first opera singer in Super Bowl history to sing the National Anthem before the game's kickoff — and she nailed it, but not without a few jitters. "I basically woke up in the middle of the night for a month every night," Fleming recalls, "and I don't typically have that problem. I was pretty worried about this; there was a lot of pressure."
Renée Fleming is used to a lot pressure. The stakes are pretty high every time she takes the stage. On her latest recording, she releases some of that pressure by sharing a few Guilty Pleasures.
"These were pieces I chose for two reasons," she says. "One is that everything is chosen because it's beautiful and because I loved it. And some things are also excerpted from larger works, which is something that is somewhat frowned upon in our world. To take for instance Wagner's, 'Traume,' from Wesendonck Lieder, is something that I just sort of say, 'Forgive me, but I just want to sing this one piece.' So those are the two reasons why I called it Guilty Pleasures."
Renée Fleming won the Met Opera National Council auditions 25 years ago singing, "Song to the Moon," from Dvořák's Rusalka, which has since become her signature role at the Metropolitan Opera. On, Guilty Pleasures, Fleming shares two different settings of this mermaid love story, one by Tchaikovsky, the other by the 20th century French composer Henri Duparc. "DuParc made a setting that he destroyed completely," Fleming says. "The Tchaikovsky setting is interesting because he destroyed most of that opera as well but there remain a couple of excerpts and this was one of them that had not been commercially recorded since — well, decades ago in Russia. So I was really happy to unearth that as I have with other Slavic repertoire because it's extraordinarily beautiful."
"Phidyle," from Duparc's version of Roussalka, is an elegant exercise in smooth, expressive legato line. It's become one of Renée's favorites. "I love singing it and I feel it's a total fit," she says. "And DuParc lieder, the chansons are done often by students because they're so great. And one of the things I realized recently: A lot of the music we sing when we're students we sing because it attracts us to the art form. And then when we become professionals, we think, 'Oh I shouldn't sing that anymore because that's what students sing.' But in fact, it's great because it's really a classical hit. So I'm coming back to all these pieces that are really a testament to beauty."
Another guilty pleasure for Renée is teaming up with her long-time friend and colleague, mezzo-soprano Susan Graham on The Flower Duet from the opera, Lakme, by Leo Delibes,."The Lakme duet is one of the really true opera hits," Renée says. "It's one of those pieces that people know — everyone knows it even subconsciously and don't even realize it's opera."
If you're up for a few Spanish trills, be sure to check out Delibes' Daughters of Cadiz. "That's a fun one and it's sort of a party tune," Renée says. "As a lyric soprano, with my particular voice type, I'm always challenged to find up tempo pieces that are fun to add to concerts — and that's certainly one of them."
Whether she's singing the Star Spangled Banner at the Super Bowl, gracing the stages of opera houses around the globe, or sharing a few guilty pleasures from her latest recording, Renée Fleming is America's diva.