New Classical Tracks: 'Goosebumpy to the Max'
by Julie Amacher
April 16, 2014
Listen

New Classical Tracks: Anne Akiko Meyers - Vivaldi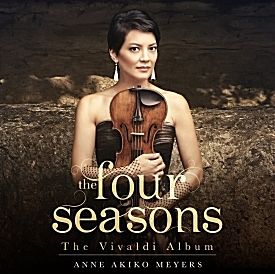 Anne Akiko Meyers' 'The Four Seasons: The Vivaldi Album' (© 2014 Entertainment One.)
Anne Akiko Meyers, The Four Seasons: The Vivaldi Album (Koch/eOne 7790)
You might find it hard to believe that after 29 recordings, violinist Anne Akiko Meyers is just now getting around to recording Vivaldi's Four Seasons. As it turns out, there's something very unique about her Four Seasons. "That's right," Anne explains, "this is the debut of this legendary violin that belonged to Vieuxtemps. And Vieuxtemps was an incredible composer and violinist himself. And I saw this photo of Vieuxtemps on his death day, his funeral, where Eugene Ysaye carried the violin on a pillow behind his hearse, and what looked like all of Belgium was there to pay their respects to Vieuxtemps. And to know that this violin was there is just goose-bumpy to the max, and preserved so well for the last 50 years in London by a collector.

"This violin was made in 1741," Anne continues, "and I found out when I was researching this project that Vivaldi died the same exact year. And to think that these two northern Italian gentlemen geniuses most likely never met and had both their compositions and their creations buried for centuries. Not until just the 20th century has the Vivaldi been discovered — as well as the Guarneri violin, made popular by Jascha Heifetz and a number of other great violinists, Gidon Kremer, Isaac Stern. It's incredible to think that we could have never heard the Vivaldi Four Seasons unless it was discovered in [a] monastery in 1925."
Anne explains that the sound of her violin is due in part to the placement of the sound post — a piece inside the violin that makes it more resonant. Just about every other violin also has a piece called a sound post patch — but not hers.
"This violin has no patch," she explains. "It was really in vogue for the violin makers to take the top off of the instrument and actually scrape away the thick wood inside. They thought that it would have the violin produce more sound by having thinner wood. But this violin, thankfully, nobody thinned. And so there's lots and lots of thick wood inside there. And it looks funny, too. It wasn't like Stradivari, who was very elegant and polished and kind of perfectly put together. And that's why I think violin makers and luthiers and violin collectors, they're just in awe of this maker, because the sound is so sonorous and can project and is so warm and gutsy. It looks wild!"
It was the incredible sound of this instrument, and Vivaldi's special touch that inspired Anne to finally record the Four Seasons.
"The music is so iconic but it's also so subjective because of the accompanying sonnets with the music that Vivaldi most likely penned," she says. "And that's a really rare occurrence for most composers — to have not only written the incredible music but to write these beautiful poems that are so descriptive of how the music is to be heard and seen. And that fascinated me. You know, to really feel a thunderstorm or to hear what a goldfinch bird sounds like. I actually went on YouTube and was listening to goldfinches. And that's what makes the musician — their perspective, their view of this music so varied … because you can hear a goldfinch but it's, how do YOU hear it? And that's what I really was trying to come across with this music — just how personal this music is.
"I thrive on that kind of visualization and that emotional kind of freedom. And to have a violin of this quality that can reflect that as well, that I can dig into the G string and it can produce this awe-inspiring powerful sound — it so inspires me as an artist to do more. Or the E string, it's just like cathedral bells when you play the E string. And the overtones of the violin are so different with the different melodies. All of that just creates for incredible music making."
That music making becomes even more incredible on Vivaldi's Concerto in F major for three violins, which is also featured on this recording, "I really wanted to showcase the range and the depth of sound and the palette of color this violin has," Anne notes. "I thought the best way to showcase that was to play three solo parts of the triple concerto — but all on one violin. As opposed to the last recording I did, of the Bach album, I played the Bach double and I played it on two different Strads. And it was almost harder to play the triple on one violin because I really wanted the audience to hear something like they'd never heard before."
Thanks to the lifetime loan of the legendary 1741 Vieuxtemps Guarneri del Gesu, Anne Akiko Meyers is creating a sound like you've never heard before on her latest release, The Vivaldi Album. And, she has plans to create more provocative music in the near future.
"Another recording I'm coming out with this fall is going to be very different." Anne says. "It's going to have the Barber Violin Concerto on it, which was the first piece I recorded, and Mason Bates' Violin Concerto which will be a world premiere, as well as a beautiful work called 'The Lullaby for Natalie,' inspired by my daughter, and it was written by John Corigliano. And that was recorded with the London Symphony Orchestra with Leonard Slatkin. I'm really excited about that recording with all that new music on this old violin. It's going to be super exciting when it comes out."
---