New Classical Tracks: Because he loves to 'Play'
by Julie Amacher
April 23, 2014
Listen

New Classical Tracks: Jason Vieaux - Play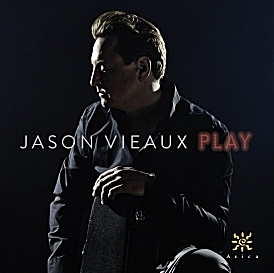 Jason Vieaux's 2014 release, 'Play' (© 2014 Azica Records.)
Jason Vieaux - Play - (Azica 71287)
Guitarist Jason Vieaux has been teaching at the Cleveland Institute of Music for the past 18 years. He recently co-founded the guitar department at the Curtis Institute, and he offers personalized instruction through the ArtistWorks online schools. Jason Vieaux teaches and performs because he loves to play guitar. That passion is front and center in the title of his newest solo recording, Play.
"The CD is kind of a celebration for me personally of 20 years as a performer, of playing, being on the road and playing for audiences," Vieaux says. "This 17-track collection is all short pieces, like five minutes and under, many of which I've played as encores for years, pieces that I've found have really resonated with audiences over the years. And it's a more playful CD. It's coming from a lot of sunny locales, very warm, vibrant … lots of up-tempo music and I wanted a playful quality to the CD."
"Tango En Skai," by French classical guitarist Roland Dyens, really captures the mood Jason was going for. "That is probably the most playful thing on the CD," Jason says, "because it's called 'Tango en Skai,' which is a word in Europe or in certain parts of Europe that means … it's like a slang word that means synthetic leather. So he means it's a tango rhythm … but it's like a fake tango — it's very tongue in cheek. And it has that very mischievous sound to it, too. There's huge dynamic contrast in the guitar. It's like the softest playing and the absolute loudest playing you can do on the instrument, all in two minutes."
This is Jason's twelfth recording, and he says it is different from anything he's done before. "This was fun for me because then I got to make my kind of greatest hits CD in a way, but then put my own sort of stuff into it — things I feel might be future greatest hits of the guitar as well. Things like the opening cut — 'Jongo' by Paulo Bellanti, a great Brazilian guitarist and … just a piece that's not really that widely known to the main stream classical music listening public, and then my arrangement of the Duke Ellington 'In a Sentimental Mood' — things like that, to give it its own personal stamp on it."
Jason Vieaux was in kind of a sentimental mood as he was choosing the pieces to include on this release. "Estudio Sin Luz," by Andrés Segovia, dates back to Jason's time growing up in Buffalo, N.Y., a time when his parents began to realize their son had a gift for the instrument. "My dad, I think, got really passionate about the music itself — specifically guitar music, Spanish guitar music and Bach and that kind of thing," Jason says. "And it really pulled him away from his modern jazz preference almost totally into classical music, which is all he listens to now. And the 'Estudio' — this piece, Study without Light, by Andrés Segovia — was in my very first recital in Buffalo when I was 12 and my father … he just asked me to play it all the time, he just loved it so much." Another piece, "El Colibri," by Julio Sagreras, is very short and sweet. It, too, is one Jason has lived with for many years. "This is one I learned when I was a teenager," he says. "It was too fast for me … I could play very fast, I could always play fast when I was 13, 14 … but what's difficult about the guitar is synchronizing the shifting in the left hand on these frets with a speedy right hand and not make a buzzing sound or a clicking sound. There's just so many ways to make an errant sound on the guitar. This is kind of our guitar's 'Flight of the Bumblebee' — it's really, really fast."
On his latest recording, you'll hear the playful side of guitarist Jason Vieaux. And you'll also hear a side he rarely reveals on the opening track by Brazilian guitarist Paulo Bellinati. "Yeah, I am definitely a frustrated drummer," Jason says. "'Jongo' has an extended percussion solo just near the end of the piece for about a minute. And what's cool about it, Bellinati gives several examples — 10 or 14 examples — of rhythms you can play. So he allows the performer to mix and match and make their own solo out of any of those materials. He even says in the score, go ahead and you can even write your own things as long as they're in the 6/8 meter — the groove, in other words — and in the Jongo style, in this syncopated manner. So right off the bat, the first track on the CD has got me drumming on the guitar and everything."
Jason Vieaux demonstrates Segovia scales in this lesson video from August 2013: