Flicks in Five: 'War Horse'
by Lynne Warfel
April 29, 2014
Listen

Flicks in Five: 'War Horse'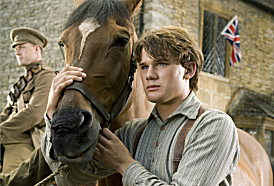 Albert (Jeremy Irvine) and his horse Joey are featured in this scene from DreamWorks Pictures' "War Horse", director Steven Spielberg's epic adventure for audiences of all ages, set against a sweeping canvas of rural England and Europe during the First World War. (DreamWorks Studios / Andrew Cooper, SMPSP)
Audio
More from Classical South Florida
Resources
Based on a play which was based on Michael Morpurgo's children's book, War Horse was inspired by World War I veterans telling Morpurgo the stories of the close bond between man and horse in the trenches and in battle, where the lives of each depended on the other.
The film War Horse was nominated for six Oscars, including a nomination for Best Original Score by composer and conductor John Williams.
Learn more about the film and hear its music on this week's Flicks in Five with Lynne Warfel.
War Horse, official trailer: