New Classical Tracks: Heart and Science
by Julie Amacher
April 30, 2014
Listen

New Classical Tracks: Daniel Elder, 'The Heart's Reflection'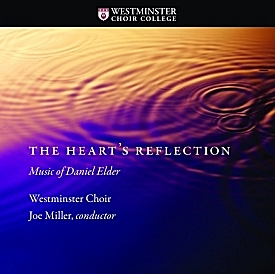 Cover art of Daniel Elder's new CD, 'The Heart's Reflection'. (© 2013 Westminster Choir College.)
Daniel Elder - The Heart's Reflection (Westminster Choir College 1310)
"I will always remember standing in front of my jury of voice faculty at University of Georgia when I first auditioned to be a music major," Daniel Elder recalls. "They told me, 'You're switching from physics?' And I said, 'Yes,' and they said, 'Even though you know you're going to make less money?' And I said, 'One can hope to be successful.' And I couldn't be more excited that I feel — especially with this album — that it's finally starting."
Daniel Elder is a 27-year-old composer from Athens, Ga., who now calls Nashville, Tenn., his home. In 2011, Daniel was one of eight worldwide winners of the Abbey Road Studios 80th Anniversary Anthem Competition. He won with the title track on his debut recording, The Heart's Reflection.
"I created that work to be symphonic and timeless with its choice of Latin as the text," Daniel says. "So I entered that in this competition and I overlooked the requirement that all entries be in English, for this competition based in an English studio. So I was glad that the coordinator contacted me — told me to create an English version. I did a second translation that truly fit the phrasing and that's how it was spawned."
Joe Miller leads the Westminster Choir on this recording. While Daniel was earning his Masters degree at Westminster Choir College, it was Miller who first recognized the sentiment behind his music. "This is something that I learned in my graduate study at Westminster," Daniel says. "I started using texts in a specific way. I didn't want to set the lines or phrases, but I wanted to set the emotions behind them. What I really want an audience to feel is what the poet was originally feeling, using the music and the words themselves as sort of a translator for the real thing that's going on, which is this emotion. I think Joe Miller really wanted this album to grab hold of that idea and wanted my heavily decided and painted thematic ideas to come to the forefront and really make the colors be what you experience and the emotions themselves.
"I also think that my mature style — at least thus far — really took off when I started exploring the ideas of Impressionism. I consider myself a tonal composer but I love exploring the music that pushes the outer limits of that. And the idea of Impressionism that fascinates me is that it weaves a tapestry. So you're using the notes and phrases as secondary things to this large-scale picture that's happening."
Daniel Elder first explored these Impressionist qualities when he was commissioned to write the work that opens this recording, "O Magnum Mysterium."
"I believe this was one of my first works where I tried to create an orchestra within a choir," Daniel says. "So this is my multi-genre composer side being able to come out within one idiom. In the work 'O Magnum Mysterium,' I try to create brass writing, string writing, woodwind writing, percussive effects, all kinds of things that create something beyond the confines of one consort of instruments, which would be what the a cappella choir is."
The works chosen for this recording are among some 100 compositions Daniel already has in his catalog. Daniel admits the most fun came when he was asked to write a few new pieces for this release. "The pieces that I really would say I worked on from that point onward were the 'Three Themes of Life and Love' with percussion," he says. "And that represents a new style that I was just starting to break into, a little more electric and a little more exciting. And those were written the summer right before the academic year in which this album was recorded."
Daniel's composing style is also complemented by his own poetry. The text for his "Three Nocturnes" was inspired by moonlit walks as an undergrad at the University of Georgia. Daniel recalls the last Nocturne, titled "Lullaby," was actually written first. "And 'Lullaby' was unique in that the text and the music came alive at the same time," he says. "And it was one of those situations where [you wake] up basically with a motif in your head and you don't know where it has come from, just pieced together in the subconscious when you're not actively composing. And I took these little flourishes, these motifs, and started coming up with lines that fit them. It's just simple elegance."
The simple elegance of Daniel Elder's music echoes throughout his debut recording, The Heart's Reflection. Daniel has a real gift for touching the soul, yet he still feels connected to the world of science. "And I think that those two sides, so often thought to be competing, really exist together in many composers and certainly in myself," he says. "I use my love for numbers and balance to create pieces that don't only have aesthetic beauty but really come across to the listener as being a balanced event, and something that makes them feel complete at the end."
VIDEO: Abbey Road Studios Anthem Competition - The Heart's Reflection, Daniel Elder
---