New Classical Tracks: Capturing Beethoven's futuristic music
by Julie Amacher
May 7, 2014
Listen

New Classical Tracks: Quartetto di Cremona, Beethoven: Complete String Quartets Vol. II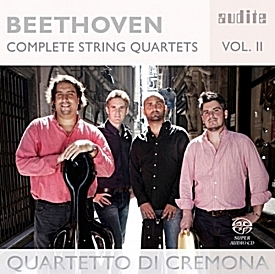 Quartetto di Cremona - Beethoven: Complete String Quartets Vol. II (© 2013 Ludger Boeckenhoff Audite Musikproduktion.)
Quartetto di Cremona - Beethoven: Complete String Quartets Vol. II (Audite 92681)
"For us, the most important thing is to have a good relationship between us," says violist Simone Gramaglia of Quartetto di Cremona. "Maybe it sounds strange, because of course musicians usually talk about music and it's very important of course. But to have a good relationship between us, between the members of an ensemble, it's extremely important to be able to find the right communication between us and the right mood to want to like to play together."
Wanting to enjoy playing together is important for Quartetto di Cremona, who are in the midst of recording all of Beethoven's string quartets. They recently released the second of seven volumes, which features the String Quartet in E Flat Major, Op. 127, from Beethoven's later period, and the "Rasumovsky" Quartet in E minor, Op. 59, No. 2, one of Beethoven's middle quartets.
Simone says the "Rasumovsky" Quartet is unique because Beethoven is experimenting with new elements that go beyond anything Haydn or Mozart had composed. "This work is incredible because he starts to use all four instruments in a new way," Gramaglia says. "We have a lot of spots with the viola and the second violin that are very dramatic. This is something that in the classical period was very often not heard, because of course, the second violin and viola were used to accompany the first violin and cello.
"He started to, let's say, destroy the typical form of composing an allegro or a minuet. He starts to use the Scherzo, for example, and he starts to think that tonality is not so linked to the meaning of the tonalities that composers were used to having. And I think he really starts to show and to write music that is for the future."
In the third movement of this quartet, Op. 59, No. 2, Beethoven incorporates Russian themes as a tribute to his patron, the Russian ambassador in Vienna, Count Andreas Razumovsky. It was Razumovsky who commissioned the piece and who hired the musicians to perform the work. "And to have a professional string quartet that could play his music was, for Beethoven, a very important aspect," Gramaglia notes. "I think also that he was really convinced that his music was music for the future. There was a letter from an Italian violinist that tried to play once some passage of Op. 59, and he wrote to Beethoven that this music is not understandable for people of our time. And [Beethoven] answered that he didn't write the music for his contemporaries; he wrote this music for the people of the future."
In order to be able to play this futuristic music, Simone says he and the members of Quartetto di Cremona did a lot of research:
"We tried to better understand the man and the composer, reading a lot about him and listening as much as we could to his compositions — not just string quartets. And it was interesting reading [Beethoven's] letters, it comes out that he was a very, very, very deep man. He was really an intellectual. He had a strong personality that really brought him to an internal dimension of the soul that I think gave a big imprinting to his music. And what we tried to do in the recording was to combine all these aspects together — trying to be as technically precise as possible, thinking a lot about tempos, phrasing … and to the slurs and articulations, but also trying to put all the great values that are in Beethoven's music — particularly in the string quartets. That's not easy and I don't want to say that we understood him. I don't think it's possible, really, to understand a genius. But we tried to be a little bit closer to him."
Technical precision is so critical to the sound of a solid string quartet, and it's something Gramaglia says also allows Quartetto di Cremona to truly feel the music. "And this is the big difficulty for musicians," he says. "To be able to be, as much as possible, very precise but not lose the musical side and not lose the meaning of the music and the message we want to communicate. It's why you can't play and record Beethoven in a few weeks. You need really a lot of time. We had to plan the recording years ago, starting to play his quartets around the world and trying every time to be precise in order to be able to be free."
With precision, freedom, and solid camaraderie, the members of Quartetto Di Cremona have discovered the recipe to performing Beethoven's futuristic music.