Saturday Cinema: June is Bustin' Out All Over
by Lynne Warfel
May 31, 2014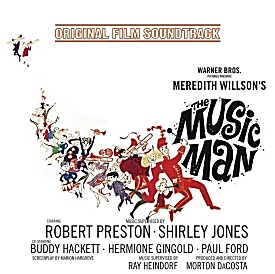 'The Music Man' soundtrack album (Warner Bros.)
View full slideshow
(2 total images)
More from Classical South Florida
Resources
As we stand at the cusp of the month of June, Lynne Warfel celebrates movie musicals. Plus, a tribute to the late Bob Hoskins. It's all on this week's Saturday Cinema.
Playlist
Steiner: A Summer Place
Cincinnati Pops/Kunzel
Telarc 80186
Rodgers: Orchestral Suite from Carousel
Cincinnati Pops/Kunzel
Telarc 80278
Loewe: How to Handle a Woman from Camelot
Bryn Terfel, baritone
Northern English Philharmonia
DG 457628
Loewe: Waltzes from Gigi
Hollywood Bowl Orchestra/Mauceri
Philips 438685
Kern: Showboat Medley
Royal Liverpool Philharmonic
EMI 4573
Bock: Fiddler on the Roof Medley
Boston Pops
Philips 438070
Bob Hoskins tribute:
Williams: Hook
Boston Pops/Williams
Sony 68419
According to Hoskins' obituary on BBC News, Hoskins "became an actor by accident. Waiting for a friend in the bar of an amateur theatre in north London in 1966, he was handed a script and asked to read for a part. The audition was a successful one and led to him working for five years in repertory theatre, where his roles ranged from Shakespeare to circus fire-eater."
After a long career in theatre, Hoskins would go on to become an internationally known film star.
Five films you've forgotten Bob Hoskins performed in (via The Telegraph) — note: contains two instances of mild language